2016 SPRING PHOTO SESSION GIVEAWAY | FARMINGTON CT PHOTO STUDIO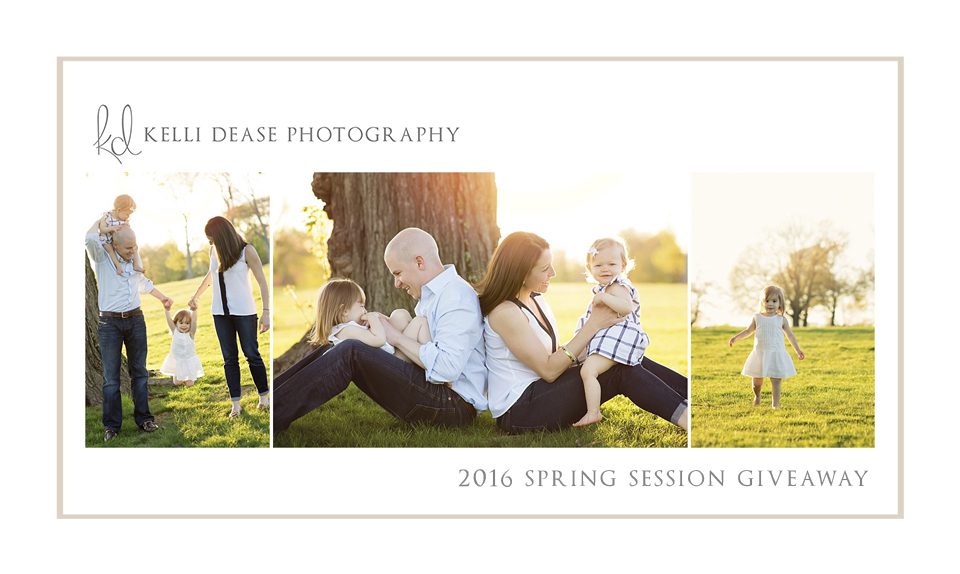 Congratulations to Amanda L. from West Hartford! Check your inbox 🙂 Thank you to everyone for participating. The contest is now closed!
The Spring Photo Session Giveaway is back!! As in past years, the prize is a FREE photo session and a complete digital package (valued at over $1,600!).
So, who can enter? Anyone! (As long as you have, or are expecting, a child, that is!) How do you enter? It's pretty simple, but read carefully:
1) Complete the OFFICIAL ENTRY FORM. **LIMIT ONE SUBMISSION PER PERSON, PLEASE!**
That's it! You're entered.
Want to increase your chances of winning?? You can earn bonus entries in any or all of the following ways:
2) If you're on Facebook, GO TO MY PAGE. Please "Like" my page, if you don't already.* Then grab the Facebook contest entry code that I have posted on my wall and paste it in THIS ENTRY FORM. (One per person, please!)
3) If you're on Instagram, follow me at @kellidease.* Then grab the Instagram contest entry code that I have posted on my feed and paste it in THIS ENTRY FORM. (One per person, please!)
*Follows and Likes will be verified. If not found, those entries will be disqualified!
But wait, there's more!!
If you do all of the above you will have a total of three entries. You can also earn additional, unlimited entries!
How? Just spread the word any way you'd like – share the link on Facebook, forward it via email, use the buttons at the bottom of this post, or even mention it during a good old-fashioned face-to-face conversation to any and all of your friends who might be interested in winning a FREE session. Make sure to tell them to put your name on the line that says "Referred By" on the official entry form. For each friend that mentions your name, you will receive a bonus entry. (So, what if your friend wins instead of you? Don't worry, you will receive a special gift for your referral.) The more you spread the word, the more chances you'll have to win!
The deadline for entries is Monday, April 18th. A winner will be drawn at random on Tuesday, April 19th and announced here on the blog.
THE NECESSARY FINE PRINT: Please, please, please only submit legitimate entries using only your primary email address. Entries (including Facebook and Instagram) are limited to one per person. Referral entries are unlimited, but please don't spam your entire contact list with the entry link or bribe your relatives to enter and cite you as a referral. Please play fair or you WILL be disqualified!
Good luck!!