scenes from a vacation | family beach portraits | kelli dease photography
Every summer we load up the car with bikes, bathing suits, pails, shovels, boogie boards, coolers, laptops, clothes, and just about anything else that we can fit without breaking some sort of weight limit law, and head off to the beaches of Cape Cod for a few weeks of vacation with my husband's family. As with any family vacation, it's fun and relaxing with a small sprinkling of crazy. Once upon a time I would bring my camera everywhere we went and take a ton of pictures. Over the years the children have multiplied, along with the beach chairs, sand toys, towels, rafts, umbrellas (honestly, you'd think we were setting up permanent residence along the shoreline with all of the stuff that we'd lug to the beach on a daily basis), and some things simply need to be left behind. Since leaving the children at home isn't really an option (although some days …) the camera is usually the first thing to go. I catch a lot of grief for this.
This year my mother-in-law specifically requested family photos. She bought outfits, set a date, picked a location. We even dragged my sister along to be our stand-in photographer so that I could be in a few shots for once. It was both beautifully planned and destined to be a complete disaster. It took about 3.5 seconds to completely unravel once we got to the beach. It was "too hot" and "too bright" and there were rocks that needed climbing on, tantrums that needed to be thrown and kids that outright refused to participate (mine, of course). Good times!
We managed to get a few semi-decent shots of my husband and I and the boys (if you ignore the fact that Lucas is doing some sort of limp, hanging thing, and both boys look like they have no legs below the knees. Whatever. I'm just going to pretend not to notice!)
We tried to get all five cousins to sit for a shot: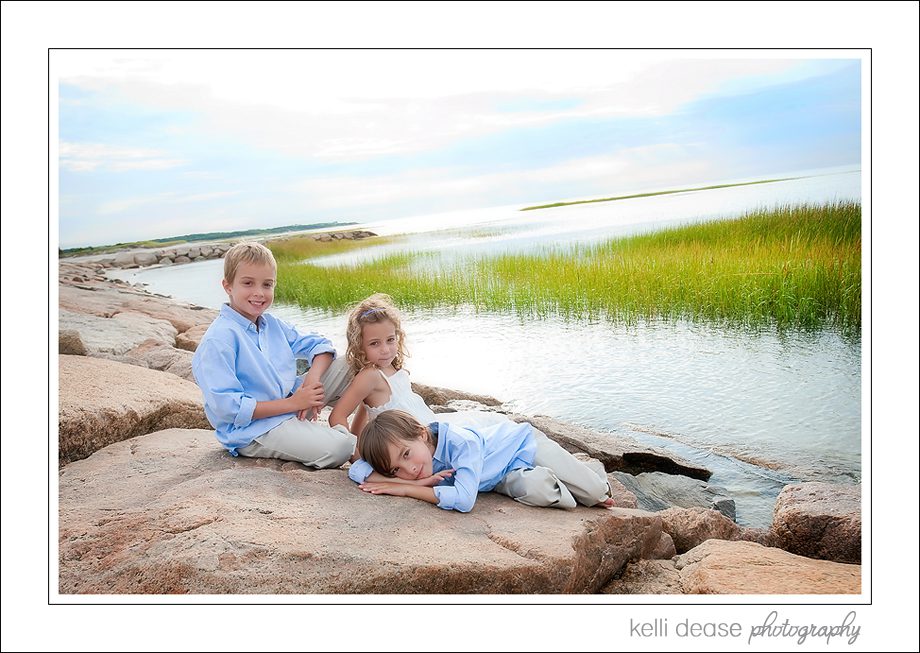 If you can count then you can gauge how well that worked out.
Other than a few shots of my in-laws and of my husband and his brother, that's about the best of the family photos.
All in all our vacation was great and, surprisingly enough, the weather was nearly perfect. Mostly I drank and lay on the beach and ate and read magazines and drank and ate. In between stuffing my face with candy and ice cream and knocking back cases of Blue Moon (hey, it's my vacation), I dragged out the 'ol camera here and there for a few snapshots. Next year I'll try harder. Maybe.